National DAISY Award Program Recognizes Excellence in Nursing Care According to the foundation, The DAISY Award for Extraordinary Nurses honors the super-human work nurses do for patients and families every day. Several of Carilion's hospitals, Carilion Roanoke Memorial, Community, New River Valley Medical Center and Giles Community, participate in the program. This award celebrates the care and compassion of Carilion employees.
html blurb
Carilion participates in the National DAISY Award Program which recognizes excellence in nursing care.
The national DAISY Foundation was formed in Seattle in November 1999 by the family of J. Patrick Barnes who died at age 33 of complications of idiopathic thrombocytopenic purpura (ITP). The nursing care Patrick received when hospitalized profoundly touched his family so they wanted to create an award program that recognized nurses across the nation. The name DAISY is an acronym for Diseases Attacking the Immune System.
The DAISY Award celebrates nurses who provide extraordinary compassionate and skillful care every day.
Leaders at Carilion Roanoke Memorial and Community hospitals learned about DAISY through their connections with Magnet and the GetWellNetwork. Today several of Carilion's hospitals participate in the program: Carilion Roanoke Memorial, Community, New River Valley Medical Center and Giles Community. We embrace the concept of providing patients and visitors, as well as staff, the opportunity to recognize exceptional nurses.
Nurses can be nominated by patients, patients' families, coworkers and others who witness their extraordinary nursing care. Award winners receive:
A certificate proclaiming the recipient an "Extraordinary Nurse."
A DAISY Award pin.
A gift from Carilion Clinic
Recognition on the DAISY Foundation website, featuring a photo and telling the story of why the nurse was honored.
Internal recognition via Inside Carilion and other communication channels.
To nominate a nurse, go to: The DAISY Award Nomination Form
To learn more about The Daisy Foundation, visit its website at daisyfoundation.org.
Image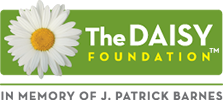 Use Section Title As Header
Off
Display as a single page
Off