Is Fellowship Accredited
Off
Hero Image Categories
Building
Hero Image Selection
Option 1
Summary
Welcome to the Carilion Clinic-Virginia Tech Carilion School of Medicine General Surgery residency. This is an unmatched opportunity to train in an environment that promotes both excellence and collegiality.
About the Residency or Fellowship
Virginia Tech Carilion Partnership
In the fall of 2010, Virginia Tech Carilion School of Medicine (VTCSOM) enrolled its inaugural class of 42 students. This unique allopathic medical school employs a problem-based curriculum with a particular emphasis on competency with medical research. VTCSOM is located in Roanoke, Va., adjacent to Carilion Roanoke Memorial Hospital; this endeavor not only rounds out Carilion Clinic's transformation to a clinic-model academic health center—enabling superior patient care, cutting-edge research and education—it also provides the General Surgery Residency with exciting growth opportunities.
Mission Goals Strengths
Our mission is to graduate chief residents capable of stepping directly into a broad-based general surgical practice, or to pursue fellowship training in an area of clinical interest. This is feasible due to extensive operative experience and autonomy offered. While the institution has grown as an academic institution with the advent of Carilion Clinic, the founding of a new medical school and increased recruitment of faculty with academic interests, the faculty are all clinicians first and foremost, and they serve as the model of who we seek to train as residents. 
Message From Leadership
I strongly believe there is a need for well-trained general surgeons who can perform a wide variety of procedures without need for fellowship training. I also strongly believe this can be delivered in an environment where residents can thrive rather than simply survive. Finally, I think of the residents as more of a family or team rather than simply those training together. This program has been described as a "horizontal" program that de-emphasizes hierarchy and encourages the resident group to work together regardless of level. The program has worked hard to increase resident ownership and as a result produced residents who function well as leaders. We continue to send about half of our residents directly into practice and half into fellowship. We are exceptionally proud of our ability to fully train general surgery residents to be capable and confident going directly into practice.
Charles Paget, M.D.
Program Director
Message From Leadership Image
Dept Spec Program Size
5 categorical general surgery residents per year
4 preliminary general surgery residents at PGY-1
2 integrated plastics residents each at PGY 1-3
Dept Spec Specialties
Advanced laparoscopy and robotics
Trauma and acute care surgery
Colon and rectal surgery
Hepatopancreatobiliary surgery
Surgical oncology
Surgical endocrinology
Pediatric surgery
Surgical endoscopy
Breast care surgery
Vascular/endovascular surgery
Surgical critical care
Dept Spec Subspecialties
Plastic and reconstructive surgery
Thoracic surgery
Complex head and neck surgery
Dept Spec Quick Facts
We welcome "couples match" applications
Dept Spec Locations
Our residents will spend the majority (90 percent) of their time at Carilion Roanoke Memorial Hospital
Residents will spend a total of 6 months rotating at Carilion New River Valley in Radford, VA (2 months each as PGY-2, 3 and 5) as a more rural/community experience and a 4-week transplant block at the University of Virginia in Charlottesville
Other electives include a one-month rotation at VCU Burn Center in Richmond, VA
Dept Spec Fellowships
Advanced Gastrointestinal/Minimally Invasive Surgery
Surgical Critical Care beginning AY 2019-20; this non-operative fellowship is also open to residents in this program after 3 clinical years as an in-folded fellowship
Dept Spec Board Pass Rate
Qualifying exam: 100 percent first time pass rate (rolling 3-year average)
Certifying exam: 90 percent first time pass rate (rolling 3-year average)
Quote
"I believe all residents who want fellowship training should go first to a program like this, where they can learn to operate well, prior to going on to post-residency training." Scott Ryan, M.D., 2018 graduate and Baylor University Vascular fellow
Youtube Ids
kJ202qdjAVE
JLlSvhe3pZI
d7jlK-8O7vw
UCLseKEPHLU
Overview
The General Surgery residency, which began at Roanoke Memorial Hospital in 1959, is primarily housed in the 737-bed Carilion Roanoke Memorial Hospital (CRMH), a full-service tertiary/quaternary care academic health center located in Roanoke, Va. The program accepts and graduates five categorical residents and four preliminary residents per year. Originally created as a community program, it has evolved to a much more academic program while keeping its focus on clinical practice foremost. Although Roanoke is a relatively small city, the hospital is the second largest and has the busiest Emergency Department in the state of Virginia due to its large catchment area.
How to Apply
Admission Requirements
CATEGORICAL RESIDENT INTERVIEW SELECTION PROCESS
We only accept applications completed and submitted through the Electronic Residency Application Service (ERAS). For the 2022 ERAS® cycle, our program encourages all applicants to complete a supplemental ERAS application, offered through the AAMC's ERAS program. 
We apply a holistic review of applications received. Applicants must present both a USMLE Step I and a Step II CK score with much stronger emphasis on the latter. In the past, a score of 220 or better on Step 1 has been required in past but those with significant improvement on Step 2 are also considered.  Step 2 a score of 240 is generally required.  The program also looks at multiple other qualities including specific interest in this program, diversity, and life experience to review a candidate more holistically.  Qualified applicants will be offered the opportunity of a personal interview, which is an absolute requirement before a categorical applicant will be listed with the National Resident Matching Program (NRMP). We accept PGY-1 applicants ONLY through the NRMP.
Applications must be submitted by Tuesday, Sept. 28 at 11:59 p.m. 

The program will begin the review of applications on Wednesday, September 29, 2021 and will pre-interview approximately 80-100 candidates by phone. 

On Wednesday, Oct. 27, a maximum of 60 invitations will be extended to applicants for a formal interview. Applicants will have 48 hours to respond. 

The Association of Program Directors in Surgery has asked that all programs extend interviews from Oct. 27 to Nov. 2, 2021 and expect after Nov. 2, 2021 to have few if any cancellations as the first interview will be on Nov. 3, 2021. 

We expect at least a 1-week notice should you decide to cancel your interview. Any cancellations under 48 hours will be considered very unprofessional. Please consider yourself and other candidates when making this commitment.
Applicants who have been offered an interview will be notified at the email address listed on their ERAS application. Additional information regarding the interview process will be included in the mailing. The primary format will be virtual via Zoom with five separate interviewers including our chair, program director, two assistant program directors and a senior resident. A more informal virtual gathering with residents and faculty will be required the night prior to your interview. This program will endeavor to offer an opportunity to visit the city and hospital for those candidates whom distance or logistics allow; but do not take this into consideration for purpose of ranking.
PRELIMINARY RESIDENT INTERVIEW SELECTION PROCESS
The same application process outlined for the categorical applicants is adhered to for preliminary candidates. However, since we are very limited in our personal interview opportunities and we appreciate the enormous expense incurred by applicants during the interview process, we do not require a personal interview for a preliminary position.
Qualified applicants who are seeking one year of training will be contacted to set up a phone interview with the program director/designee—the results of which generally suffice to complete the interview process.
We will certainly make separate arrangements for any preliminary candidate who truly desires to personally meet with the faculty and residents, however it is not a requirement for being considered a preliminary candidate for a position within the training program.
Contact
For further information, please contact:
Caroline Johnson
Program Manager, General Surgery Residency
Carilion Roanoke Memorial Hospital, Medical Education Building 333
1906 Belleview Ave.
Roanoke, VA 24014
cejohnson3@carilionclinic.org
Office: 540-981-7441
Curriculum
Curriculum
PGY-1 Year
This "intern" year of the residency is used to build the foundation of the program and introduce the residents to the services which they will be working during their time at Carilion Clinic. A recent addition to this year is the Introduction to Research rotation, which will allow the residents to understand the research process and begin at least one research project that is expected to yield a paper and a presentation at a program at a regional or national level. Finally, it is expected that the resident will be able to perform basic operations such as hernia repair and laparoscopic cholecystectomy.
PGY-2

Year
During their second year, each resident will assume the role of junior resident on each of their services as well as run the ICU service at night and conduct initial evaluation of all patients in the ER. Experience in the operating room will include operating on more difficult cases, such as acute cholecystitis, and in general will continue to develop.
PGY-3

Year
A critical year for the resident, the third year of the program allows for the experience of a leadership role at Carilion Clinic. Under the supervision of attending staff members, the resident will be chief of their Trauma, ICU, Pediatric and Thoracic services as well as getting generous exposure to General Surgery in a more advanced role.
PGY-4

Year
During the fourth year of the program, the resident will begin to assume a more senior level of management such as Chief of Trauma, Night Float, Vascular Services.
PGY-5

Year
The final year of the program allows for the resident to experience the complex nature of surgical decision-making at Carilion Clinic as the senior resident on most services, specifically Emergency General Surgery, as well as the two elective general surgery services and at the separate community hospital.
Call Policies
Night float services cover Sunday through Thursday night leaving Friday night and Saturday being only 24-hour calls. Sunday day is also covered as a "call." The remaining rotations have a frequency of in-hospital call that, viewed across those rotations, averages less than one in 7 days. As one should expect from any resident training program, all AGGME-established guidelines for work hours are readily met and exceeded.
Operative Experience
General surgery residents are exposed to a tremendous surgical experience in terms of breadth and complexity of operative cases. The teaching faculty members are committed to allow qualified residents to perform these operations procedures as chief operative surgeons. Average total for our graduates of our program have conducted an average of 1,200 major operations, 300 major cases as surgeon chief and 95 as teaching assistant. These totals roughly correspond to > 75 percentile in total major operations and surgeon chief cases and > 95 percentile for TA cases.
Elective Tables
| PGY-1 | PGY-2 | PGY-3 | PGY-4 | PGY-5 |
| --- | --- | --- | --- | --- |
| Oncology/complex General Surgery (Berry Service) | MIS/Bariatric | Pediatric Surgery | Oncology/complex General Surgery | Oncology/complex General Surgery |
| MIS/Bariatric (Davies Service) | Colorectal | Thoracic | Head & Neck | MIS/Bariatric |
| Colorectal (Fogel Service) | Breast Oncology | Oncology/complex General Surgery | Trauma | Emergency General Surgery |
| Emergency General Surgery (Ferrara Service) | ICU Nights | Transplant | Night Float | Carilion New River Valley Hospital |
| Vascular Surgery | Endoscopy | ICU Chief | Breast Oncology | Colorectal |
| Trauma (Gilbert Service) | Emergency General Surgery | Head & Neck | Vascular Surgery | |
| ICU | Night Float | Carilion New River Valley Hospital | Thoracic | |
| Night Float | Carilion New River Valley Hospital | | Elective | |
| Endoscopy | | | | |
| Anesthesiology | | | | |
| Pediatric Surgery | | | | |
| Intro to Research | | | | |
Didactic Sessions
Conferences
An "education first" philosophy has been established by voluntary faculty and residents alike within the Carilion General Surgery Residency. As such, all residents can attend the following morning conferences, held at Carilion Medical Center. The overarching guideline of the conference schedule is to deploy fundamental didactic surgical curriculum around which we will deliver a higher-level curriculum via more Socratic methodologies.
Basic Science Conferences
To prepare residents for the American Board of Surgery (ABS) qualifying examination (and, of course, the annual ABSITE examinations) a weekly review following the This Week in the Surgical Council on Resident Education (SCORE) curriculum will be moderated by the program director and select faculty. The material learned in that session will be later reinforced by a multiple-choice examination delivered in the format of an interactive, audience-response, facilitated discussion session we call the Evidence-Based Medicine Conference.
Surgical Skills Curriculum
One week per month we deliver a multifaceted curriculum that will include, but not be limited to, the following:
Fundamental simulation training exercises such as suturing, knot tying, laparoscopic skills enhancement

Trauma team STEPPS training

Virtual operating room team training

Simulated surgical gesture proficiency analysis

Fundamentals of surgical critical care

Problem-based learning in ethical decision making

Bedside ultrasound-training facilitated patient management scenarios in trauma, general and vascular surgery

Facilitated journal club (selected readings in General Surgery)

Simulated bedside procedures (thoracostomy tube, central line, intubation, etc.)
Another facet of the skills curriculum is an intern Boot Camp which occurs during the first 2 months of the academic year. The purpose of this Boot Camp is to introduce the incoming residents to laparoscopic operations and skills as well as how to handle clinic and operative scenarios.
Surgery Grand Rounds
Interspersed with the more traditional format of weekly Surgical Grand Rounds, given by experts in their fields, the surgery residents can expect to deliver grand rounds during their chief year, each one supervised by a faculty mentor who is trained to provide insight as to the proper conduct of a formal presentation. In so doing, it is our intent to assure that our graduates are given the skills needed to impart medical information to others—professionals and lay public alike.
Morbidity and Mortality Conference
The Morbidity and Mortality conference is the most important teaching conference a training program can conduct. We have specifically designed our M&M conference to encourage the residents to take a proactive role in analyzing each complication.
Chairman's Rounds
A case presentation didactic conference with the department chair covers common surgical problems and is divided into junior and senior resident sessions.
Breakout Conferences
In these sessions, attendance is encouraged by those residents who are rotating on that given specialty for which the conference is designed. These conferences represent unique opportunities to enhance one's clinical skills within the scope of that conference. Sessions include:
Combined Emergency Department/Trauma conference

Breast Treatment Planning conference

Tumor Board (New River Valley Hospital)

Trauma/ICU conference

GI Tumor Board

Vascular Arteriogram Conference
Residency Life
Gallery Images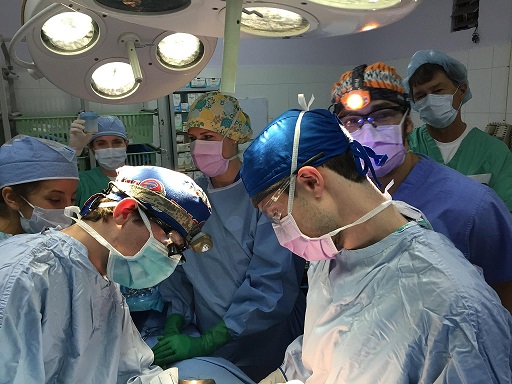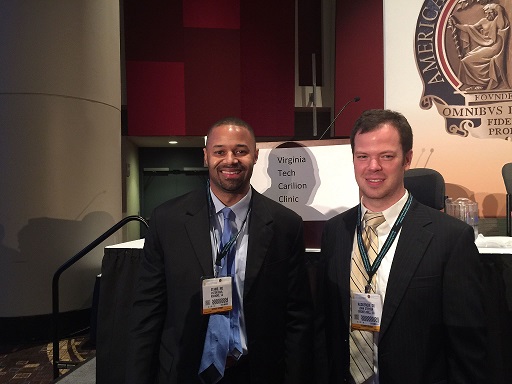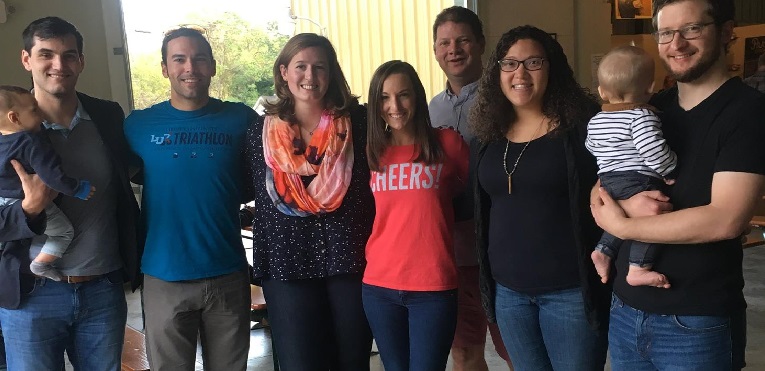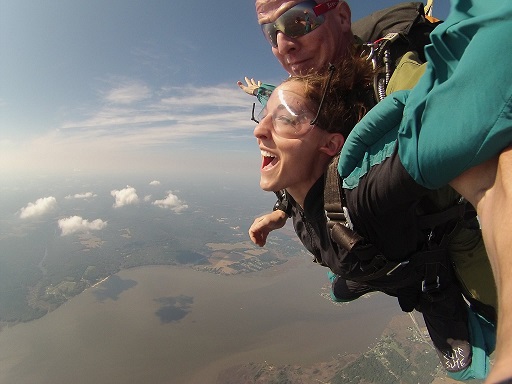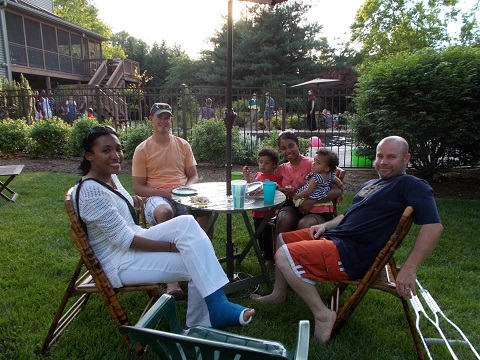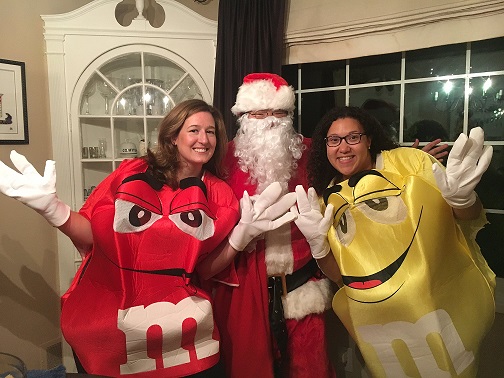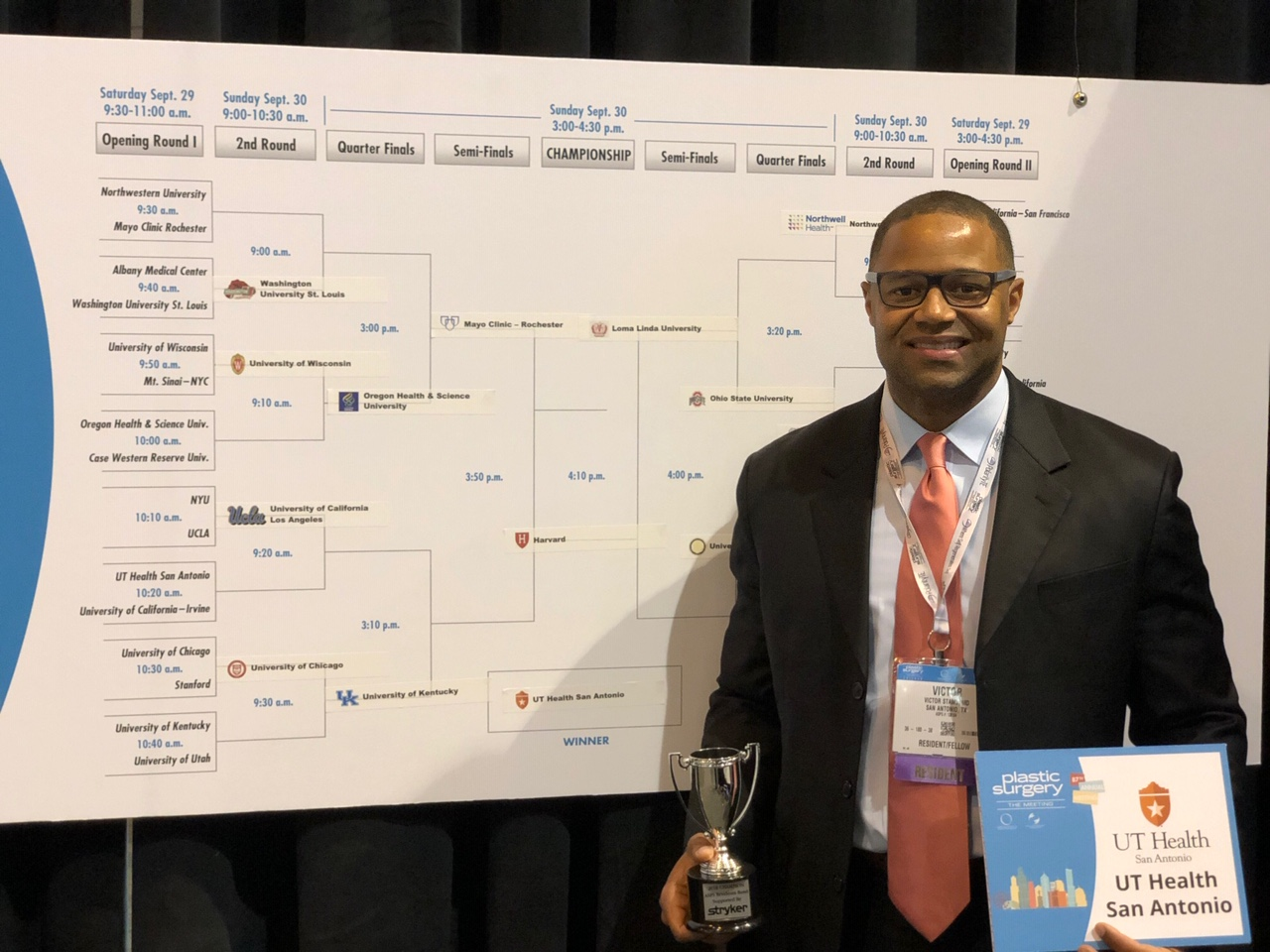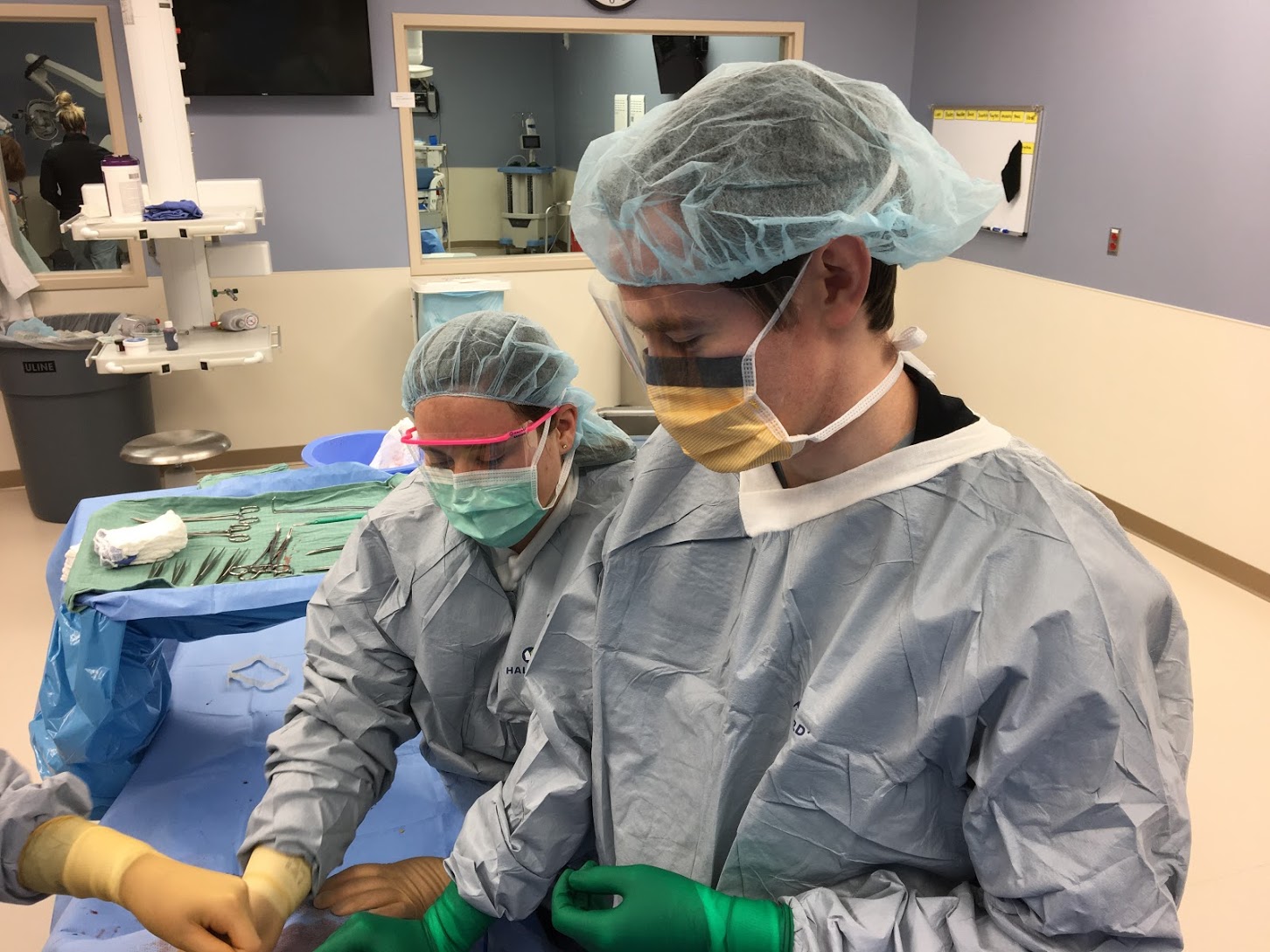 Residency Life Intro
New residents in our program will quickly find themselves a part of the surgery family. Our residents form strong relationships that extend beyond the hospital. We regularly have resident events such as the annual intern welcome party, resident Thanksgiving dinner and crawfish boil. Additionally, several of our faculty often host events for the residents in their homes or around Roanoke. Many of our residents have spouses and/or children, and families are always welcome at these events.
Roanoke is a great location for those who love outdoor activities such as biking, hiking, running or rock climbing. The entrance to the Blue Ridge Parkway is less than a five-minute drive from the hospital and there are numerous hiking trails with spectacular views within a short drive. The Roanoke Valley Greenway is part of the city's bicycle and pedestrian infrastructure and is a great place for a workout, a family day at the park or trout fishing in the stocked Roanoke River.
The Roanoke Valley is cosmopolitan and welcoming of many cultures. There are events in the city almost every weekend, including celebrations of different cultures (Greek, Italian, Indian, etc.), running and bicycle events, concerts and lectures. 
Beautiful hiking trails and outdoor activities like kayaking and camping are available. Residents also enjoy art and history museums and a variety of farm to table and ethnic restaurants. There are many housing options, and the cost of living is low. Roanoke is a 4-hour drive or train ride to Washington, D.C. if you want to spend the weekend there.
Graduates
Graduates Intro
Our graduates often go on to join practices and attend fellowships all across the United States. Click on their bios below to see where each graduate is now.

Gallery Images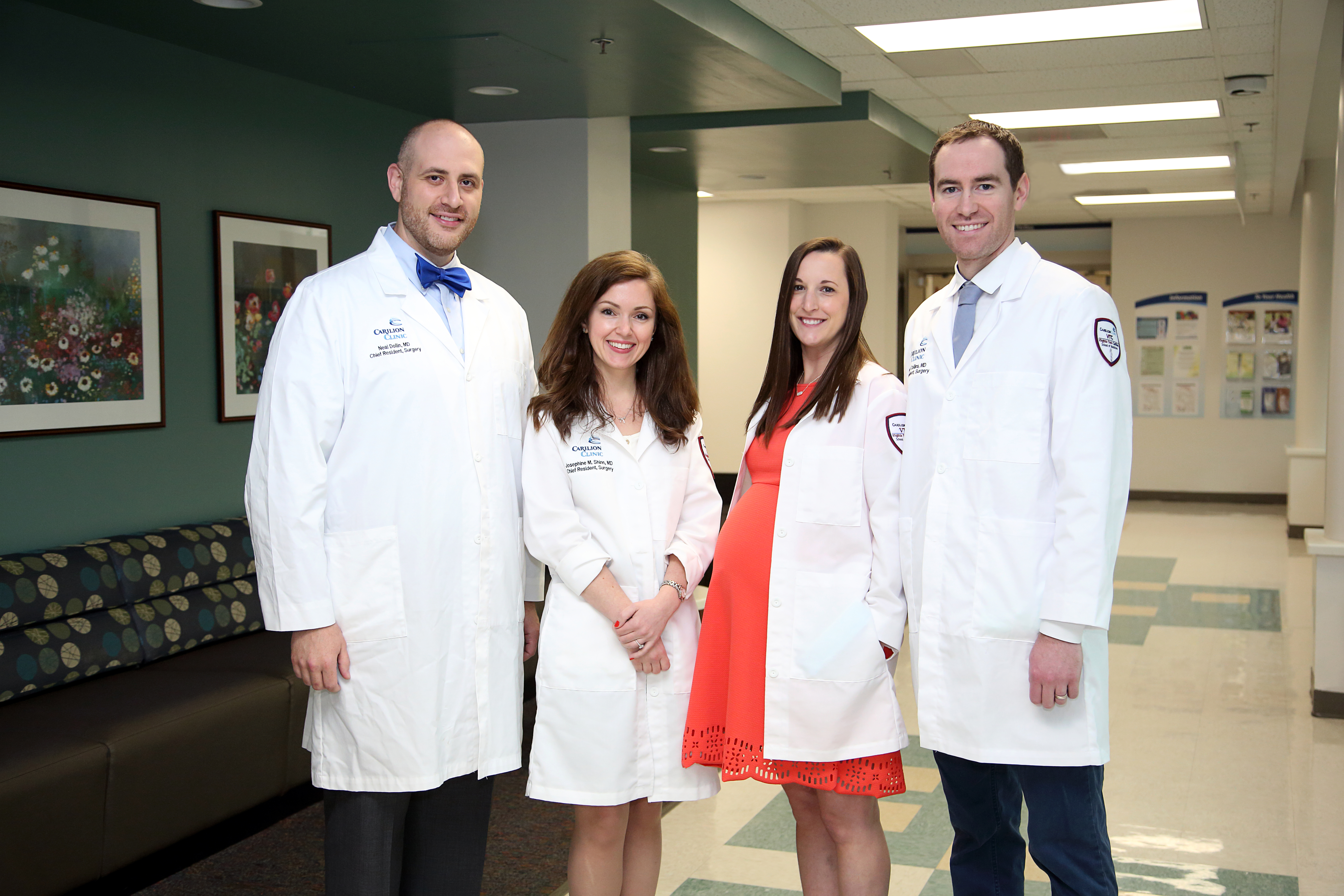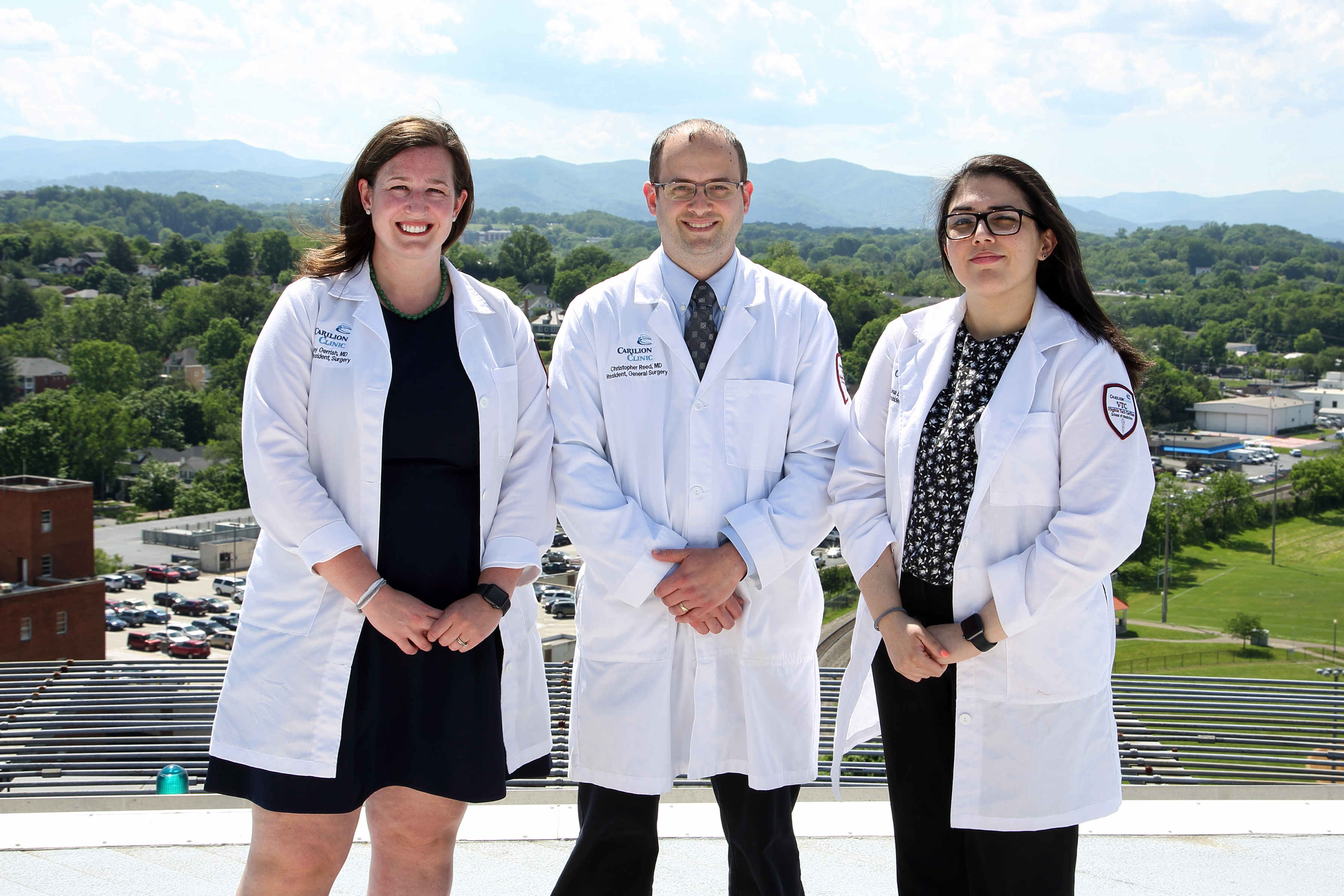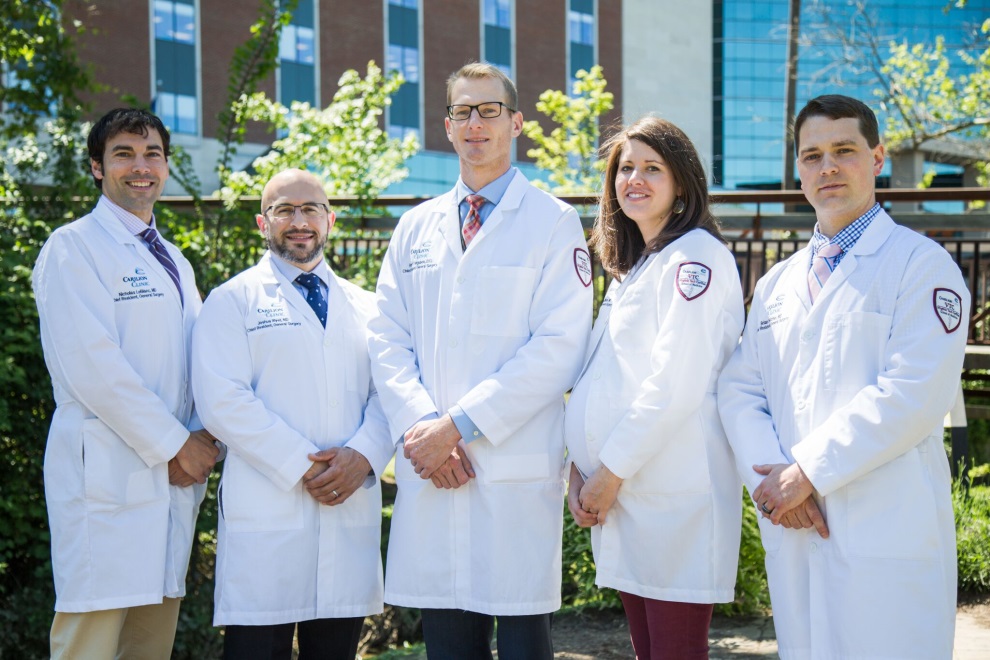 Faculty
Specialty Group
Leadership
Specialty Group
Core Faculty
Specialty Group
Program Administration
Research
Research Intro
With superior skills and a compassionate, patient-centered approach to care, our surgeons are up to date in the latest and most innovative procedures, focused on quality, safety and using the least invasive approach to achieve the best possible outcome for each patient. High-level, basic science research opportunities are abundant in all of the sections of the Department of Surgery through the Virginia Tech Carilion School of Medicine, the Fralin Biomedical Research Center at VTC, and Virginia Tech. These include investigations in neurobiology, obesity, breast oncology and genetic markers associated with tumors and scar tissue. Using several comprehensive databases, studies are conducted that focus on quality of patient care and improving outcomes after surgical intervention, trauma and critical care. Surgery faculty also use Carilion's Center for Simulation, Research and Patient Safety (Sim Lab) to optimize physician training, investigate human factors in the operating room and develop advanced techniques involving minimally invasive procedures and robotics.
All surgery residents are required to complete at least one quality improvement project or research study before graduating from the program. Many in fact choose to participate in multiple studies over the duration of the residency. In order to facilitate this process, all residents have a research mentor who assists with study design, project implementation, data analysis and manuscript preparation. By the conclusion of the program, all residents should feel comfortable with research methodology and be able to serve as a principal investigator in future studies.
Our residents present findings at internal Carilion Clinic functions, such as the annual Carilion Clinic Research Day and the Carilion Clinic Surgery Resident Research Day. Many current residents have presented at the following state and national meetings, including:
Academic Surgical Congress

ACS-NSQIP National Conference

American College of Surgeons (ACS) Virginia Committee on Trauma

Annual Meeting of the American Association for the Surgery of Trauma and Clinical Congress of Acute Care surgery

Association of Program Directors in Surgery (APDS) Annual Meeting

Central Surgical Association

Society of American Gastrointestinal and Endoscopic Surgeons (SAGES)

Southeastern Surgical Congress (SESC) Annual Scientific Meeting

Virginia Surgical Society
A method in which the residents may begin to fulfill this requirement will be through the Introduction to Research rotation during the resident's intern PGY-1 year. During this intern year rotation, the resident will be introduced to the practical aspects of designing and of conducting research which will result in a paper and/or a presentation at a regional or national level.
Our faculty and residents are interested and participate in a variety of research options as shown below. The following are a few of the recent projects which our faculty and residents have worked on; most of our resident-driven research is completed through collaborative efforts between both faculty and residents.
Research Year Collection
Header
Most Recent Faculty and Resident Research
HTML Block
Farrell Adkins: Targeting Connexin 43 in Colon Cancer Stem Cells
Farrell Adkins; Harry Warren (PGY-3): Surgical Outcomes in the Treatment of Colovaginal Fistula
Farrell Adkins; Ashley Gerrish (PGY-4): Enhanced Recovery after Surgery: Does it Decrease Long-Term Post-Operative Narcotic Use?
Farrell Adkins; Stacie Allmond (PGY-2): Effectiveness of Lidocaine Infusion within Colorectal Enhanced Recovery Pathways
Farrell Adkins; Daniel Tershak: Does Repeat Tissue Compression by Robotic Stapling Devices Increase Colonic Anastomotic Leak Rates?
Curtis Bower; Daniel Tershak: ATLAS (A Prospective, Multi-Center Trial of a Long-Term Bio-Absorbable Mesh with Sepra Technology in Challenging Laparoscopic Ventral or Incisional Hernia Repair)
Bryan Collier; Shawn Safford; Harry Warren (PGY-3); Rebecca Kirschner (PGY-3): The Effects of Thiamine (vitamin B1) in Critical Ill Patients in the Surgical ICU: A Single Center Study
Bryan Collier; Daniel Lollar; Harry Warren (PGY-3); Dan Freeman: Symptomatic Blunt Cerebrovascular Injuries
Bryan Collier; Josephine Shinn (PGY-2); Dan Freeman: Chest Tube Use in Trauma: A Western Trauma Association (WTA) Multi-Center Trials Committee (MCTC) Prospective, Observational Study
Bryan Collier; Mark Hamill; Daniel Lollar: Long-Term Mortality of Trauma Patients at Carilion Clinic
Bryan Collier: PEP uP Protocol (Enhanced Protein-Energy Provision via the Enteral Route Feeding Protocol) in Surgical Patients
Sandy Fogel: Use of the National Surgical Quality Improvement Program to Build a Risk Model for Reintubation
Sandy Fogel; Christopher Kalmar (PGY-2); Curtis Bower: Intravenous Lidocaine Infusion for Prophylaxis and Treatment of Neuropathic Pain
Sandy Fogel: How Big Is Too Big? A Comparison between Laparoscopy and Open Incision Repair of Incisional Hernias with Respect to Hernia Size
Sandy Fogel: A Novel Protocol to Decrease Surgical Site Infection Rates in Colorectal Cancer Surgical Procedures        
Sandy Fogel: The Benefits of Pre-Operative Intravenous Iron Infusion for Colorectal Surgery Patients
Sandy Fogel: The Effect on Outcomes of Travel Distance and Time in Patients Transferred for Emergency General Surgery
Sandy Fogel; Michael Nussbaum: Can Enhanced Recovery Protect against Post-Operative Pneumonia and Lower Rate of Re-Intubation?
Mark Hamill; Christopher Reed (PGY-4): 25 Years of Trauma at Roanoke Memorial Hospital: A Descriptive Study
Mark Hamill; Robert Ferguson: RSBI in the Geriatric Thoracic Trauma Victim Does Not Accurately Predict Successful Extubation
Mark Hamill: Analyzing Associations between Beers Criteria Medications and Traumatic Injuries
Mark Hamill: Comparing the Views of Physicians and Patients on Traumatic Injuries
Mark Hamill; Bryan Collier; Daniel Lollar: An Evaluation of the Utility of Additional Imaging of Trauma Consults after Initial Imaging in the ED
Mark Hamill: Outcomes in Geriatric Population with Subdural Hematoma after Surgical Intervention
Daniel Lollar: The Golden Hour in the Geriatric Trauma Population Confers In-Hospital Survival Advantage
Daniel Lollar; Bryan Collier; Dan Freeman: Aortic Occlusion for Resuscitation in Trauma and Acute Care Surgery: A Prospective Observational Study of the Endovascular Skills in Trauma and Resuscitative Surgery Working Group
Daniel Lollar: Resiliency of Stop the BleedTM: When Does Bleeding Control Training Need to Be Repeated?
Daniel Lollar: Preventing Venous Thromboembolism in Trauma Patients: Who Needs How Much of What
Daniel Lollar: IV Lidocaine Usage after Acute Traumatic Injury: Is it Safe and Effective?
Bruce Long; Stacie Allmond (PGY-2): Appendicitis in the United States: A Prospective Observational Study of the Demographics, Presentation, and Outcomes of Acute, Perforated, and Gangrenous Appendicitis
Katie Love Bower; Michael Nussbaum; Christopher Reed (PGY-4): Endoscopic Ultrasound-Guided Gallbladder Drainage Protocol
Katie Love Bower; Emily Faulks: A Review of Blunt and Penetrating AAST Grade IV and V Liver Injuries
Katie Love Bower; John Jeffries (PGY-5): Evaluation of Endothelial Progenitor Cells (EPCs) as a Biomarker for Surgical Outcome
Katie Love Bower: Investigation of the Mechanisms behind Hypocalcemia in Seriously Injured Patients
Katie Love Bower; John Jeffries (PGY-5): EFAST vs Chest X-Rays in Blunt Trauma Resuscitation
Shawn Safford: Application of Eye Tracking to Assess Confidence of Experienced and Trained Surgeons in Detecting Adverse Events in Laparoscopic Cholecystectomy
Shawn Safford: Assessing Interpersonal Relationships between Residents and Attending Physicians
Keith Stephenson: Comparison of Short-Term Survival and Prognosis between Laparoscopic and Open Resection for Colorectal Cancer at Our Institution
Keith Stephenson; Hannah Woriax (PGY-4): Presence of Bile Crystals as an Alternative Measure of Biliary Dyskinesia
Terri-Ann Wattsman: Mindfulness in the OR
Terri-Ann Wattsman: Does Increasing Hospital Operating Room Volume Contribute to Untoward Patient Events in the OR?
Terri-Ann Wattsman: Use of Lateral View on Ultrasound to Improve Visualization of the Retrocecal Space in Pediatric Appendicitis
Terri-Ann Wattsman: Assessing the Safety of Percutaneous Endoscopic Gastrostomy Tube Placement Done In-tandem with Two Specialists and Comparing It to Laparoscopic Insertion for Pediatric Patients