Dr Nwaonu attended medical school at The University of Nigeria. She completed her residency at Maimonides Medical Center and then went to Cleveland Clinic for her Rheumatology fellowship.
<br/><br/>
She worked at MetroHealth in Cleveland for a year as an Assistant Professor of Medicine, Rheumatology, Internal Medicine, Case Western Reserve University. She then practiced Rheumatology for several years in South Dakota and Texas.
<br/><br/>
Dr Nwaonu joined Carilion Clinic in 2018. Her interests include rheumatoid arthritis, systemic lupus erythematous, polymyositis, gout, scleroderma, spondyloarthritis, psoriatic arthritis, vasculitis, sjogrens syndrome.
<br/><br/>
Dr Nwaonu holds an academic appointment as an Assistant Professor of Medicine at the Virginia Tech Carilion School of Medicine (VTCSOM). She considers the education of both students, physicians and patients as one of the primary goals in Rheumatology. She enjoys working with patients in managing their conditions and guiding them on their journey to better health.
Many rheumatological conditions are chronic and the diagnosis may be the start of a long, complicated journey. A close, trusting relationship with the patient is most important to me as we work together on a management plan and treatment.
Procedures Performed
Joint aspiration and injection
Bursa aspiration and injection
Trigger finger injection
Affiliations
Carilion Clinic
VTC Affiliate
Certifications
American Board of Internal Medicine (Rheumatology)
Internships
Maimonides Medical Center
University of Nigeria Teaching Hospital
Residencies
Maimonides Medical Center
Interests
Rheumatoid arthritis
Systemic lupus erythematosus
Psoriatic arthritis
Inflammatory muscle disease
Spondyloarthropathies
Vasculitis
Gout
Scleroderma
Sjogrens syndrome
Sarcoidosis
Accepts Mychart Appointments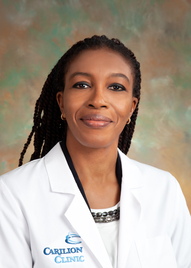 Accepts MyChart Appointments
true
Accepts New Appointments
false
Explained Clearly Slug
Explained Clearly
Explained Clearly Rating
4.9
Listened Carefully Slug
Listened Carefully
Listened Carefully Rating
4.9
Easy Instructions Slug
Easy Instructions
Easy Instructions Rating
4.9
Knew History Slug
Knew Medical History
Showed Respect Slug
Showed Respect
Showed Respect Rating
5.0
Spent Enough Time Slug
Spent Enough Time
Spent Enough Time Rating
4.9